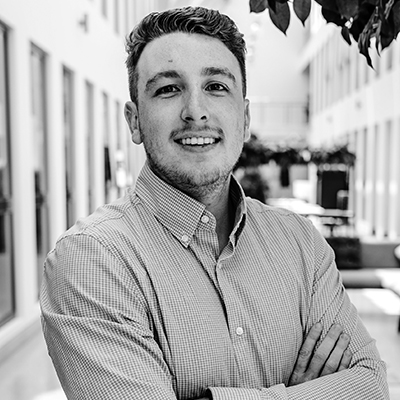 We recently spoke with Bradlee Pease, one of our Assistant Quantity Surveyors at Appleyard and Trew, on his time at the company and his courses.
Hi Bradlee, thank you for taking the time to chat with us, can you tell us a little bit about your studies?
I am currently studying at Leeds Beckett university towards a RICS accredited degree in Quantity Surveying on a day release 2 year top up course. Alongside this, I am currently training for my RICS chartership which I hope to complete by 2023.
How has A&T helped to support your with your course?
A&T support me throughout my course by providing me with a key role on all types of projects whilst providing guidance when required to ensure a high-quality service is being provided at all times. I was able to shadow experienced staff and even partners to learn on the job which helped me enhance my skills and give me actual knowledge to put toward my courses.
How did you find working and studying from home throughout Covid? Did Covid cause any delays with your course?
I think I found working at home the hardest due to it being harder to get assistance from other members of the team when required. However, we dealt with this well by keeping up with Microsoft teams meetings which was reassuring to know I could always get help if I needed. Throughout Covid my college course carried on with weekly lectures being held online, this meant I didn't fall behind on my learning thankfully.
What is your favourite sector to work in and why?
I love working on heritage projects, despite them probably being the most challenging from start to finish, maintaining the originality of heritage buildings whilst making vital changes is very rewarding upon a successful completion.
What are your work goals for the next 5 years?
I hope to attain my RICS chartership and build a network of likeminded professionals which will hopefully allow me to be able to solely and successfully run my own jobs which meet both the budget and time constraints. With all of my training and support from A&T I hope this is reachable before 5 years.
How do you juggle learning and working at the same time?
I try to be organised and manage my own schedule and workload. A&T are supportive when I require assistance both in my learning and working life, they are a very understanding team and are aware that everybody has their own personal lives as well as trying to succeed in the professional world.
What are your 3 best tips for someone learning on the job?
Don't be scared to ask a question, always ask for help when required, try shadow senior staff members to aid your development
What is your favourite thing about working for Appleyard and Trew?
The support I receive on a daily basis not only with my university studies and APC training but to become a better quantity surveyor in the long run. I enjoy the team atmosphere and welcoming office space along with the ability to learn from all different levels of Surveyors.
Thank you for answering our questions Bradlee, we hope to be celebrating your University and APC completions soon!